Chris' Father

Chris' father in "To Forget".

Age

Unknown; likely 50s

Gender

Male

Ethnicity

Caucasian

Location

New Jersey

Affiliation

Good

Occupation

Locksmith

Family

Chris (son), Wife†

Enemies

Status

Deceased

Cause of Death

Killed by The Order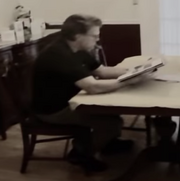 Chris' father was a minor character in DarkHarvest00.
History
[
]
Chris' father makes his first appearance in the Kind von der Ritter response video Trauen. He is seen reading a book on the dining room table.
In Log Entry 28, Chris' father calls on his son from a different room to answer the front door, where he found the DVD containing footage of Jesse Laurenzi's execution and a warning from The Order that they will kill his family if he and Alex attempt to infiltrate them again.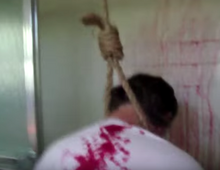 Prior to Log Entry 30, the Order broke into Chris' residence and murdered his father after discovering his and Alex's involvement with Heather McComber in Log Entry 29. They left his corpse hanging from a noose in the upstairs bathroom. After hearing from Alex that the Order murdered his family, Chris rushed home to find to his horror that his father was killed.
In To Forget, Chris weeped over a photo of his family during Christmas when he was young. His father is seen happily crouching beside his wife and son.
Trivia
[
]
Despite being a minor character with no true interaction with the character's in the series, his death (along with his wife's) was pivotal to DarkHarvest00's progression in the third season.
In Log Entry 21, Chris mentioned that his father is a locksmith and that he borrowed a skeleton key from him to open Heather's chest.